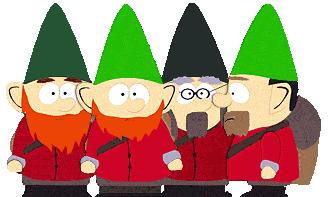 Hat tip to Matt C. for first mentioning this analogy, which is so perfect I cry myself to sleep at night for not thinking of it first (not really, but you get the idea...).
Blogger's Note: As with all special comments, I think it's better when there's more commenting and discussion going on. This is my view and I always welcome yours.
EDIT: So remember that whole thing I wrote in here about letting innuendo take over and some people will never believe it doesn't raise taxes. Um, yea....about that.....
The Underpants Gnomes have to be one of the funniest and most random characters to come out of the
South Park
series. For those who do not know the backstory, the Underpants Gnomes are fabled creatures whom Tweek, the overly caffeinated kid that drives all the other kids crazy, claims come in the middle of the night to steal his underpants. Nobody believes Tweek, who becomes increasingly stressed out about the situation, until one night he's pulling an all-nighter with Stan, Kyle, Cartman, and Kenny, and the gnomes show up.
After some cajoling, one gnome who stays behind takes the boys to the gnomes' headquarters and explains their business plan for world domination:
If you didn't/couldn't watch the video, or if you'd just like to see it again, the gnomes have a business plan that contains three phases:
Phase 1: Collect Underpants
Phase 2: ?
Phase 3: Profit!
Does this sound familiar? It should. This same business plan seems to be the hallmark of the two major post-Lighthouse proposals from Ed Mangano: the casino plan and the original announcement of the areener referendum.
Before this past Tuesday, as I've said, I was last at the county seat last July, which is ironic because that was the week when the heat index topped 110. I guess it's a rule that my recent trips to the county seat have to be in stifling heat.....But anyway, I was with a few other community leaders to share concerns with the plan to put a casino at Nassau Coliseum, which was clearly a non-starter from the beginning. Everyone knew Belmont was the better site, and I'm glad that it's gone that way. When we asked for details of the casino plan, we were informed there wasn't a plan, just an Excel spreadsheet with rough revenue projections, with no consideration of costs or explanation where the numbers in that spreadsheet came from.
Phase 1: Announce Casino Plan
Phase 2: ?
Phase 3: Profit!
(Blogger's Note: What's interesting is that a Nassau County representative floated the possibility of a bond issue to replace Nassau Coliseum at that time, and my reaction was almost incredulous. I never thought this would happen....and I never claimed to be right about everything)
We saw it again in May, when Ed Mangano, Charles Wang, and Kate Murray appeared together to announce a $400 million bond issue to pay for a new Coliseum (again, the proper term is "areener") and a minor league baseball stadium at the Mitchell Field complex. When people asked for details, it did not initially seem that the group had any intention of publishing them in advance of asking the voters and legislature of Nassau County to approve it.
Phase 1: Announce Special Election
Phase 2: ?
Phase 3: Profit!
The underpants gnomes would be proud.
Mangano has wisely backtracked from this initial position, and he now promises that an agreement will be signed with Charles Wang and released by the middle of June.
This is a welcome step, but it comes at a costly, and perhaps fatal, price.
By not having the details ready at the outset, Mangano has created a negative impression of the project, opened up a line of attack from critics (and people who might just oppose him), and he's repeating the old mistake of the Lighthouse by allowing rumor and innuendo to take the place of indisputable facts. At this point, much like the birther issue and conspiracy theories, there will be some people who will believe this referendum imposes a tax on Nassau residents, regardless of what the final numbers say. That is not good for the prospects of a vote to pass in a low-turnout election; residents will show up if they think they're keeping taxes down.
It was clear from Tuesday's vote that Democrats who voted against the timing of the special election wanted to send Mangano a message more than anything. I surmised as much when they asked for the caucus break right before voting, and I was right as all Democrats except Legis. Dave Denenberg voted against scheduling the election August 1. By not having the details, Mangano provided an easy line of attack and gave the Democrats leverage to demand more should the vote pass (remember, approving the bond issue requires a supermajority, so Mangano will need the Democrats to have this signed, sealed, and delivered).
However, the lack of details also did something else: it's invited increased scrutiny on those details once they are released to the public. I think a source close to Mr. Wang is right in saying that some will find fault with the numbers regardless of what they say, but at this point the negotiations have the impression of being rushed, and the numbers will be examined with increased scrutiny, especially by the legislature and NIFA.
In my opinion, the details, when they are released, should have the following data points in there:
What is the level of revenue-sharing to pay the debt service?
What scenarios would need to take place to pay the debt service in full every year?
What assumptions were made to reach these numbers?
What happens if an event, such as another NHL lockout in 2012, depresses the revenue-generating capability of the new areener?
Who is responsible for cost overruns? (Charles Wang has already committed to cover these, but it needs to be said loudly and more frequently)
Will a scaled-down development be a part of this arrangement? If so, would revenue from that site also contribute to the debt service?
If development is included, and another developer is selected, would that developer be bound to the same arrangement?
Will Nassau County have a franchise in place before the minor league ballpark is built? What happens if that plan is later changed?
All contracts supposedly must be approved by the county - How exactly are those approved and what are the qualifications to get something approved?
Does the county have a plan to cover the cost of the election should Charles Wang not agree to cover all costs, regardless? (More on this later)
Moving Forward
I'm glad that Ed Mangano is moving away from the Underpants Gnomes Theory of Governance, but simply pivoting from his old position is not enough to salvage this. Details must come soon, and they must be complete enough to satisfy both watchful citizens and that Sword of Damocles known as NIFA.
Charles Wang and the Lighthouse group made a mistake by not getting further out in front of issues previously, and they allowed the project to die over rumor, innuendo, and intransigent TOH nonsense.
This cannot happen again.
If the revenue-sharing numbers work for both Charles Wang and Nassau County, say that like they used to vote in Boston (early and often).
If this isn't a tax on already-stretched homeowners, shout it from the rooftops!
Make clear the benefit to the community and the cost of doing nothing and losing the Islanders.
Make people understand the mechanics of this.
Have surrogates out there pushing the message and constantly available to the media.
Treat this like a political campaign and avoid the mistakes that were the Lighthouse Project's undoing.
The Underpants Gnomes could start stealing underpants without figuring out phase 2, but Nassau voters cannot properly go to the polls if the details of this referendum aren't known.